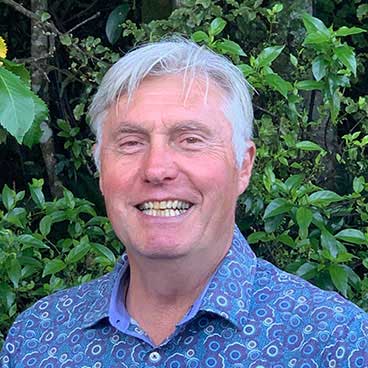 Chairman – Max Mueller
I have fond memories of my parents setting aside a Sunday a month (a Swiss tradition), to take the family into the New Zealand bush. We tramped, traversed rivers, built huts, and drank billy tea. That experience certainly had an impact on how I developed a close connection to our natural environment.
As a teacher I had numerous opportunities to take students on school camps where they developed resilience in meeting challenges and acquired a wide range of new skills because they were exposed to effective outdoor education.
The opportunity came to join the Aongatete Outdoor Education Centre Board in 2015, which seemed a practical way to support the Centre in its mission to promote and foster environmental education opportunities for students and community groups across our region. In 2019 I was elected as the Chairperson for the Board & have the privilege of working alongside a very dedicated & committed team.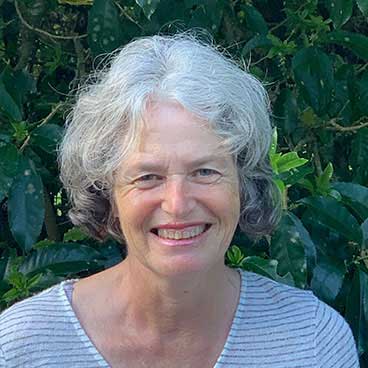 Secretary – Carol Radford
Kia Ora, my name is Carol Radford, Te Aroha is my mountain, Waihou is my river, my ancestors came out from Scotland on the sailing ship Gala. I grew up in a small district called Tirohia,  surrounded by the ngahere (native bush). I have lived in Aongatete for twenty years with my husband and daughter.
I have served on the Board of Trustees for four years and I am passionate about protecting the environment for generations to come.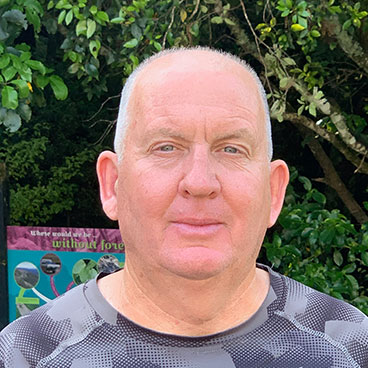 Treasurer – Robert Temple
I am the current treasurer for the Aongatete Outdoor Education Centre (AOEC). I am a chartered accountant with experience in both the private and public sector. This includes roles covering management accounting and financial accounting.
I believe in looking after our environment in every possible way. I have spent many years actively involved in environmental work, mostly doing pest control work in-order to try to save our precious flora and fauna – especially our native bird population. That is why I am involved in the AOEC. If more people are aware of our environment and are actively involved in looking after it, then there is more chance of saving it.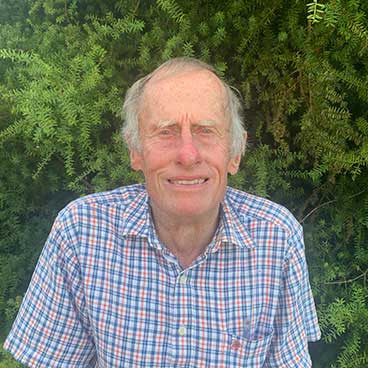 Projects – Keith Pyle
Keith joined the Board of Aongatete in 2009 and was Treasurer until 2019. Keith has a passion for the outdoors and has been an active boy scout, tramper, mountaineer and sailor since the age of 13. Originally from South Africa where he obtained a BSc in Agriculture, he followed an agricultural career managing large corporate farms specialising in citrus and other crops in Zimbabwe and Eswatini (Swaziland) until 1997. He immigrated to NZ in 1998 where he has continued as a citrus consultant, a grower and active tramper. In the early seventies on an OE he spent just over a year working in the Outward Bound organisation, first in Zimbabwe and then the United Kingdom and Germany- experience which has been very valuable at Aongatete OEC.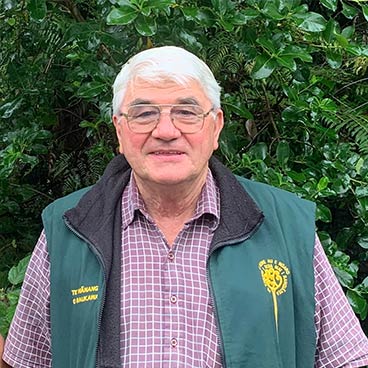 Patron – Rob McGowan
We are honoured to have Rob McGowan as our Patron. Rob is a prominent rongoā Māori practitioner, well respected for his work in the restoration of rongoā practise and traditional knowledge of native plants and medicines in Aotearoa New Zealand.
He works to regenerate degraded land and streams, educate others and work alongside the Department of Conservation's Nga Whenua Rahui unit to protect indigenous ecosystems on Māori land.
He is very passionate about why people need to listen to the land and their own surroundings, on the issue of sustainability.
"The number one priority is not profit, but caring for the whenua. That's the only way to ensure long term sustainability. The Earth's resources are finite. They are already beginning to run out."
In April 2021Rob received a Queens Service Medal for services to Māori and conservation.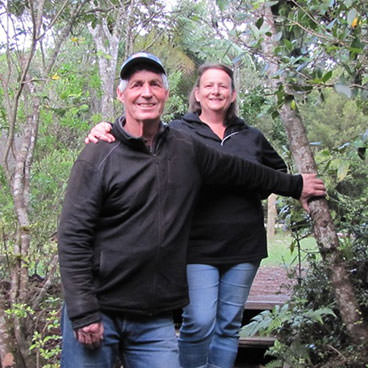 Karen & Allen both love the outdoors and always enjoy helping and supporting people to adapt to new and often challenging situations.
Karen has an entrepreneurial business background and worked for many years as a business and personal performance coach specialising in "Self- Management Programs".
Karen says she wakes up every morning and thinks that she is the luckiest person in the world to be a part of AOEC and to have the opportunity of creating a sustainable future for the centre and being part of something that has a purpose for a greater good.
In their time at AOEC, Karen and Al have fallen in love with the the forest and witnessed the effects of the forest in the lives of humans and the importance for this planet. Introducing children and adults to the magic of the forest is one of Karen's & Allen's greatest privileges.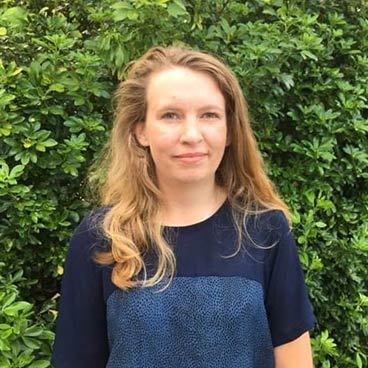 Emily Underwood
Growing up on a dairy farm, I have always had a passion for nature and exploring the outdoors. Adventuring overseas after high school, I instructed at Muskoka Woods, Canada, favouring high ropes as I got to help individuals faced the same challenges and fears as I did at their age.
I still remember my own school camps being the highlight of the school years, and I aim to be as inspiring and uplifting as the instructors I looked up to. I believe there is so much to be gained from nature-based camps like AOEC that can not be taught in a classroom. I love watching the bond that forms in a group that comes to camp, as they overcome challenges, step out of comfort zones, build teamwork, develop new friendships and connect with nature.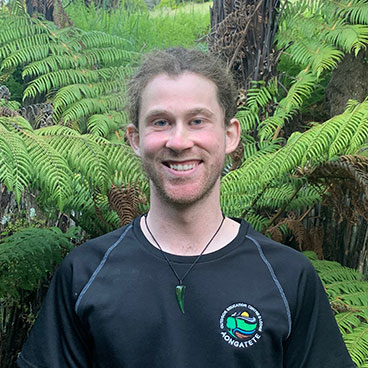 Jesse Wiltshire
I have always been fascinated by the beauty and complexity of our natural environment, beginning with childhood family camping trips and overnight tramps as a teenager. I would return home humbled and privileged to have spent time in the bush.
Finishing high school in leadership positions and taking out top Outdoor Education student twice, I completed a Bachelor of Design and served as Army Reserve Infantry.
I enjoy translating what I learned there to students, from practical bush skills to lessons of perseverance and teamwork. My ideal weekend is in the bush, tramping solo or with mates and appreciating our incredible backcountry, although trekking to Everest Base Camp is a lifetime highlight too. It is a privilege to be involved with AOEC and pass my enthusiasm on to students, inspiring within them an appreciation for nature and adventure.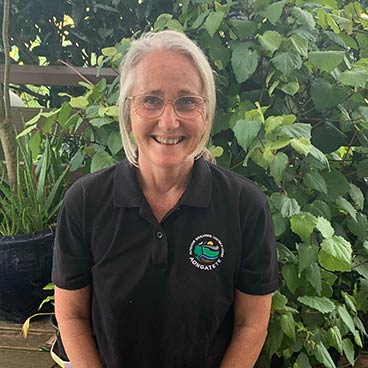 Donya Feci
Kia Ora Koutou /Greetings All, Ko Donya Feci toku ingoa / My name is Donya Feci,
Enoho ana ahau ki Aongatete / I live in Aongatete. Our family love living near our Ngahere / Bush and have always loved hiking both here and in the United States.
I have been teaching children for over 20 years, starting as a teacher aide then studying for my Diploma in teaching ECE, my roles included being a facilitator for Enviroschools over the past 10 years teaching Education for Sustainability. I have also had the pleasure of studying with Rob McGowan and Donna Kerridge to learn Rongoa Rakau / Moari medicine. I am excited and feel privileged to provide opportunities that mold these teachings together for children and adults at the Aongatete Outdoor Education Centre.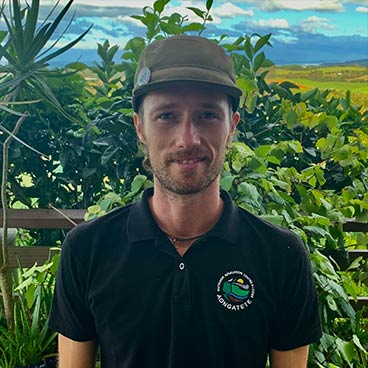 Immanuel Feci (Manny)
Manny has been guiding and coaching both adult and youth in outdoor environment for the last 10 plus years, from rivers and snowy mountains to the North and South Island forests of New Zealand. Manny is especially passionate about connecting youth back to their ngahere and guiding them to see the true value, beauty and respect that the natural world has to those who are willing to learn. In turn helping and hoping to bring through a new generation of kaitiaki in Aotearoa.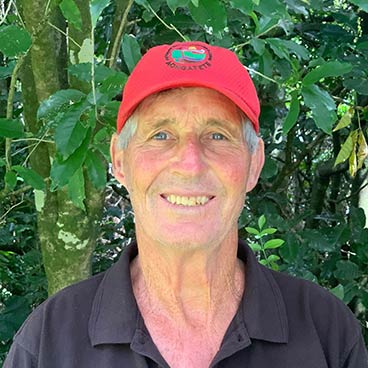 Allen Smith
Most of my life I have spent my spare time playing or coaching sport to children, students and young adults. I have now, in the latter years, turned to coaching golf to all age groups and since joining AOEC have taken on and thoroughly enjoyed, the challenge of showing lodge users, the beauty of Archery.
As in all sports I taught, the greatest feeling is watching the students smile at their success. The Archery Range is at the edge of the forest where bird life is always present: Kerri, Tui, Piwakawaka, Kingfishers, Quail, Robin (mostly heard not seen), the students from the cities are in awe, especially since all the birds that fly past are named, so every archery session is integrated with learning about the birds in our natural environment.